Spec Mix Mortar Pigments
We stock (5) Colors : Light Buff, Medium Buff, Medium Brown, Sable, and Black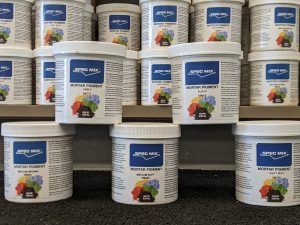 * The sample colors shown in color charts or channel kits are provided to demonstrate the colors available. THE SAMPLE COLORS ARE ONLY APPROXIMATE. Variation in color, shades of color, texture, and aggregate exposure is inherent in all masonry mortars and exact matches cannot be guaranteed. Actual shade and texture will depend on job site conditions, lighting, mixing and installation techniques and types of masonry units used, and may vary from color charts or color channel kits. It is recommended that a sample panel is constructed using all representative materials and allowed to fully cure. The panel should be washed and approved prior to construction.
MORTAR MATTERS
Look at these pictures of the same Old Carolina brick samples side by side with a different mortar color.
Solomon Colors Inc, Mortar Color App Link
Here is a snapshot of what you will find when you click the link to go to the resource from Solomon Colors, Inc.