Sold in Bulk.
Buy as much or as little as you would like.
Bucket, Truck, or Delivery.
Delivery does require a 1 ton minimum.
*Bulk Aggregates Disclaimer:  Rock and Stone are natural products from the earth that are subject to variations in color, texture, veining, size and differing quarries. We would recommend that customers personally inspect rock and stone prior to purchase as differences may be apparent from the example pictures on the website. Some stone is washed in the production process but still may be dusty and could include small, fine pebbles and dust particles at the time of purchase. Rains, watering and time will wash the dirt and dust and bring out the true colors of the rock over time. Henry Bierce Supply cannot be held responsible for fines, color, or size variations. We cannot guarantee a perfect match consistency on our stone products, especially if a period of time has elapsed since the last purchase.
Grass Seed available in 25lb bags
Bierce Mix
Cleveland Parks
Dura Shade
Fertilizer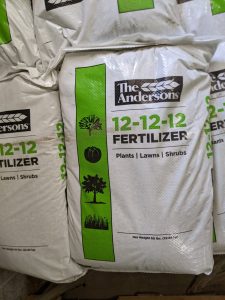 Mulch
Natural Triple Shred All Bark
Brown Dyed Double Shred
Black Dyed Double Shred
Sold by the Yard
Natural Triple Shred All Bark Mulch
Brown Dyed Mulch Dbl Shred
Black Dyed Mulch Dbl Shred

DOUBLE SCREENED TOPSOIL
Sold by YARD
Covered storage
One Yard of Materials at:
1"
Covers
324 Sq Ft
2"
"
162 Sq Ft
3"
"
108 Sq Ft
4"
Covers
81 Sq Ft
5"
"
64 Sq Ft
6"
"
54 Sq Ft
7"
"
46 Sq Ft
8"
Covers
40 Sq Ft
9"
"
36 Sq Ft
10"
"
32 Sq Ft
11"
"
29 Sq Ft
12"
Covers
27 Sq Ft
To Get An Estimate of Yards Needed - Try this Yardage Calculator:
Working with a Circle - Try this Yardage Calculator:
The Henry Bierce Supply Company provides delivery services Monday through Friday. Our extensive fleet of trucks and professional, experienced drivers will provide you with an exceptional delivery experience. We provide delivery services all throughout Northeast Ohio.
With our bulk materials having established prices, our delivery fees will fluctuate depending on the amount of materials we are delivering and how far we are traveling. We have a minimum of one ton/yard for deliveries.
WHERE WILL WE DUMP MATERIALS UPON ARRIVAL?
Our drivers will always do their best to place your materials where you instruct us. We do, however, have limitations as to what we can do, so we always encourage having a secondary placement location if your first choice is not feasible. Here are a few things to consider when choosing your location for the placement of materials:
Any overhead obstructions (Low hanging electrical wires, tree limbs or branches, awnings and overhangs, etc…
Wet or soft ground
Steep hills or aggressive slopes
NEW concrete driveways
Narrow or tight turning access
CONDITIONS OF OUR DELIVERY SERVICES
We always recommend laying out a tarp for any dyed materials that we are dumping to prevent staining on driveways
When dumping on a tarp, we will do our best to keep the materials on the tarp. Materials may not always be centered on tarp and may have a tendency to spread partially off the tarp.
We cannot control how the pile of material will spread out, so keep in mind any buildings, fences, or other obstacles when selecting your placement location.
We will need at least 10 feet of width and 15-20 feet of height of clearance to properly dump materials.
Depending on the age and installation of a concrete driveway, the weight of the truck may cause cracking or other damage.
If you are unable to be home during the time of delivery, a placement location should be properly marked. If not, either our driver will use their best judgement to determine an ideal location, or we will not drop the material at all.
Our drivers will have full discretion as to where and how the materials will be placed.
Delivered materials must be placed on your property. We will not dump on a neighbor's property or any vacant lot.
We can tailgate spread a maximum of 10 tons at a time with an approximate 2 inch top dressing.
If an order is refused, delivery fees will still apply.
When a delivery is scheduled, you are accepting the responsibility of any damage that may occur.
Penn Mulch
Bales of Straw = approx 200 SQ FT coverage