Commercial Contractors, Residential Builders & Homeowners Can Get First-rate materials at The Henry Bierce Supply Co.!
From our expert staff  and responsive delivery capabilities we service homes and construction sites with top of the line equipment and services which include:
6 boom trucks
2 flat bed truck w/moffit
5 dump trucks
1 pick-up truck
1 flat bed semi truck
-
___________ 

                                                                                                                                          BLOCK COLOR OPTIONS
Below is the Emerald Series which has 21 color options available in Architectural Splits or Smooth.
*Colors can be used for Retaining Walls by Special Order.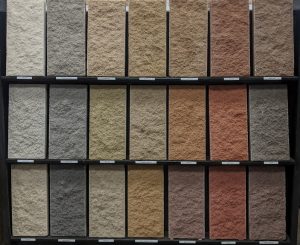 First Row Colors = Snow, Timberwolf, Harvest, Maple, Copper, Rose, Walnut
Second Row Colors = Oyster, Shadow, Maize, Tumbleweed, Amber, Scarlett, Teak
Third Row Colors = Chalk, Midnight, Wheat, Butterscotch, Merlot, Plum, Mahogany
We also have the Diamond Series which has 21 different colors.
First Row Colors = Opal, Charcoal, Green, Riverbed Buff, Enviro Buff, Cinnamon, Tahitian
Second Row Colors = Cream, Castlestone, Olive, Sandstone Buff, Chocolate, Brik Red, Burnt Umber
Third Row Colors = White, Natural Gray, Sahara, Desert, Cocoa, Coral Red, Salmon
If you need a sample, contact us at 330.633.3282 or [email protected] and we'll be glad to assist you with the request.
Supported by a knowledgeable staff, we distribute the brand name masonry products you've come to trust:
Schory Cement Products
County Materials
Chas Svec, Inc.
Koltz Block
The Henry Bierce Supply Co., a member of the National (and local) Association of Home Builders, Builder's Exchange of Akron, The Mason Contractors Association of Akron and Vicinity and the Brick Industry Association, works closely with a long list of masons who need the right material for everything from a foundation or brick veneer. For example, we also help regional building departments coordinate footer inspections and set up concrete deliveries when footers are ready to be poured.
Quality Service is Essential for Builders and Contractors
Along with knowledgeable sales people and responsive delivery capabilities, The Henry Bierce Supply Co. represents some of the premier brick manufacturers in the country.
The smaller plants offer unique colors and textures and the flexibility of production to accommodate special manufacturing considerations.